Cati B. Artist
Cati Burnot is a passionate French abstract artist based in Saint-Martin. She is widely published and has exhibited internationally.
Cati's paintings – oil on canvas – are the subtle meeting of light, matter, fluidity, and transparency. The colors merge into each other, creating a world of abstraction and ethereal atmospheres. Her works are intended to soothe the soul, to bring well-being and energetic equilibrium…and to induce the viewer to experience the work in connection to their own subconscious.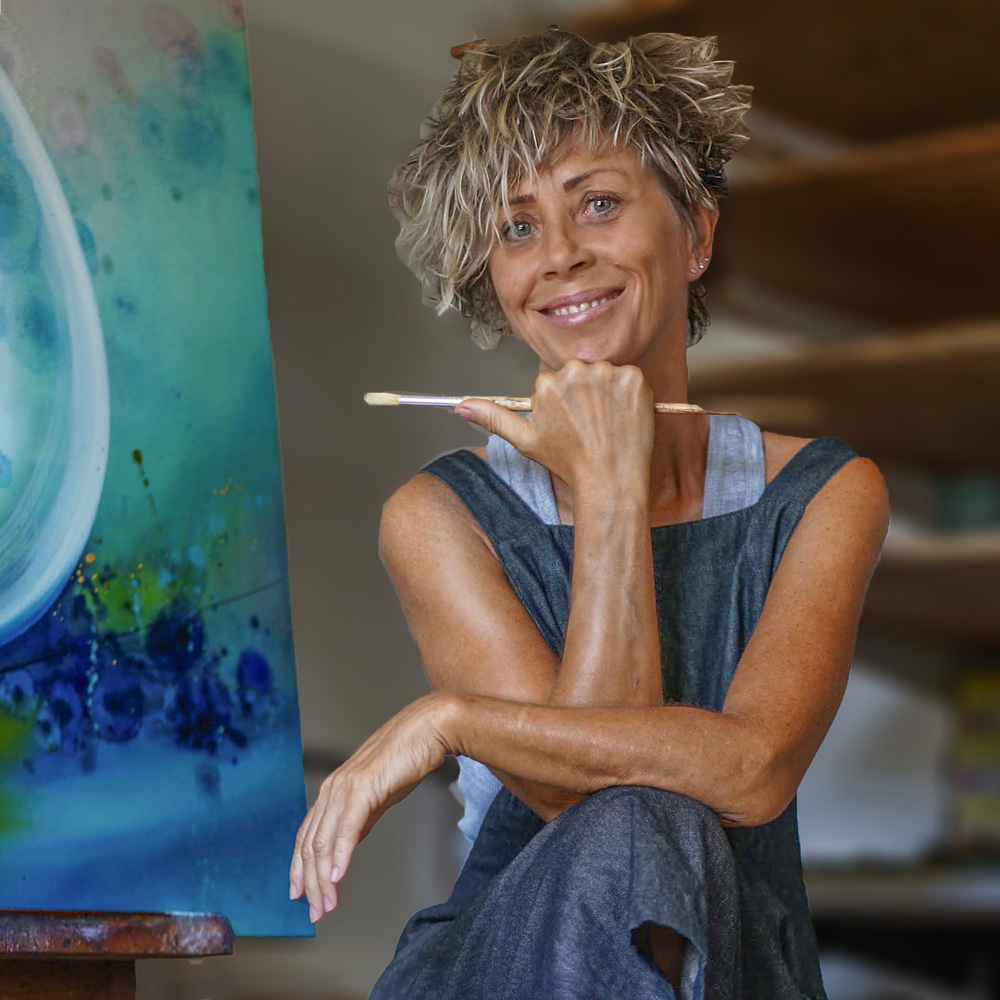 Tell me about your childhood and background, and how it affects your art?
My grandmother was a lover of Asia, her living room was full of Asian objects. She was original, she would allow me to paint on the walls outside her house, she played the guitar, she had something exotic, she was free…
I was born and lived in a small village in Algeria. At a very young age, I felt that I was different, but I was happy to be original. I loved to draw, I made drawings for my grandmother. As a teenager, drawing became vital to me.
I wanted to do fine arts. My father told me that I could do what I wanted to do later but that I had to pursue other studies first. So I decided to pursue my second passion: children. As I began my studies in nursing, my parents were divorcing. For some time, I worked as a medical secretary, but I only took substitute jobs.
At one point I crossed paths with a member of the Van der Kelen family, whose great-grandfather had established the very famous Institut Supérieur de Peinture Van Der Kelen in Brussels. People come from all over the world to train there. I enrolled in the school, and came out of it with a gold medal as a decorative painter in imitation wood and marble.
I started to work in imitation wood and marble, focusing on decoration. My dream was to go to the seaside, so I moved to Sète. However, there were no clients for imitation marble there, so I started to "doodle" new works. Then, a friend encouraged me to participate in an exhibition in Japan and my application was accepted for October 2001.
At the exhibit In Japan, there were 150 exhibitors. I was delighted when I was the artist that sold the most! One day, the Van Der Kelen school invited me to their 150th anniversary celebration, asking that I bring some of my work. I brought my abstract works and found myself with 9 other exhibitors with completely different styles. The teachers loved my work…and that's when I got the recognition from my profession that I needed to feel legitimate.
Following the show, I called an art critic to get his opinion. He looked at my body of work and told me "You are an artist – you have found your true means of expression…"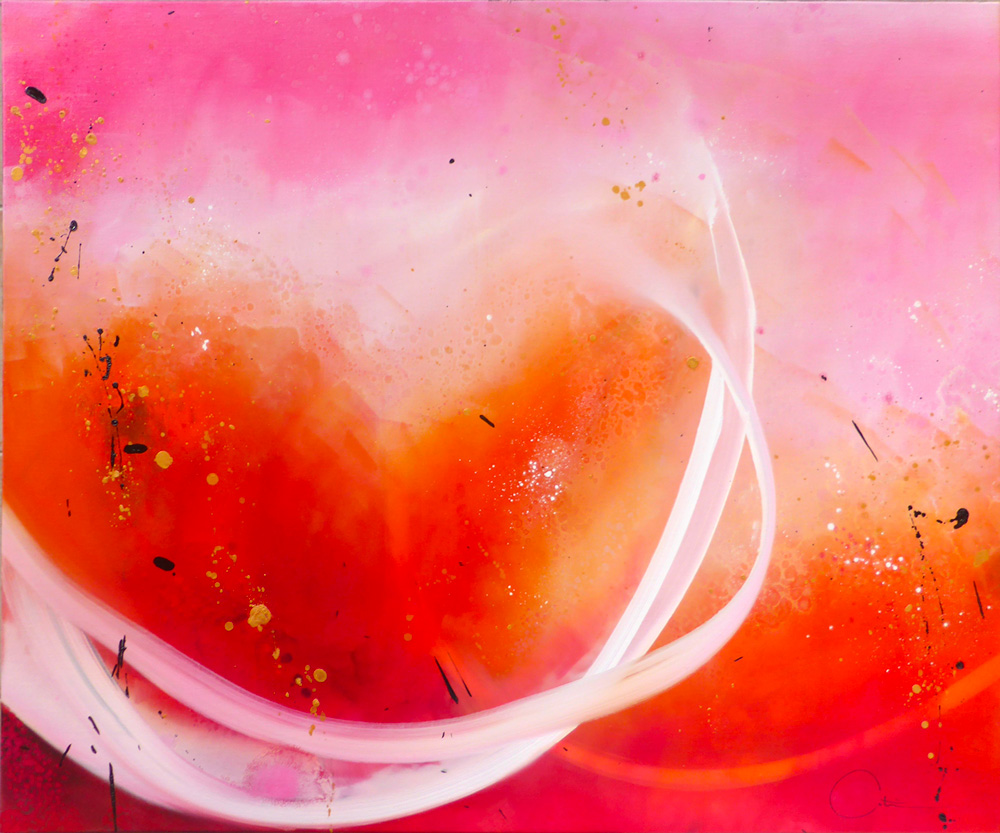 Tell me about your art?
I have been cutting out images and creating since I was a little girl. I am visual…I am always observing.
My work draws its inspiration directly from the technique of the Flemish glazing I was taught in the world famous Van Der Kelen school.
I have always had this need to express myself, especially since I had big problems with my father and my mother, which led to 7 years of Lacanian therapy. I was lucky enough to have a guide: a friend of mine who was a specialist in quantum psychology and who worked with smells, colors, and images.
My painting is not an accident, it has evolved with me. It contains energy and it is as if it is energetically charged: People are first attracted by the canvas, they feel its vibrations and then once at home they will continue to have the canvas vibrate in their interior.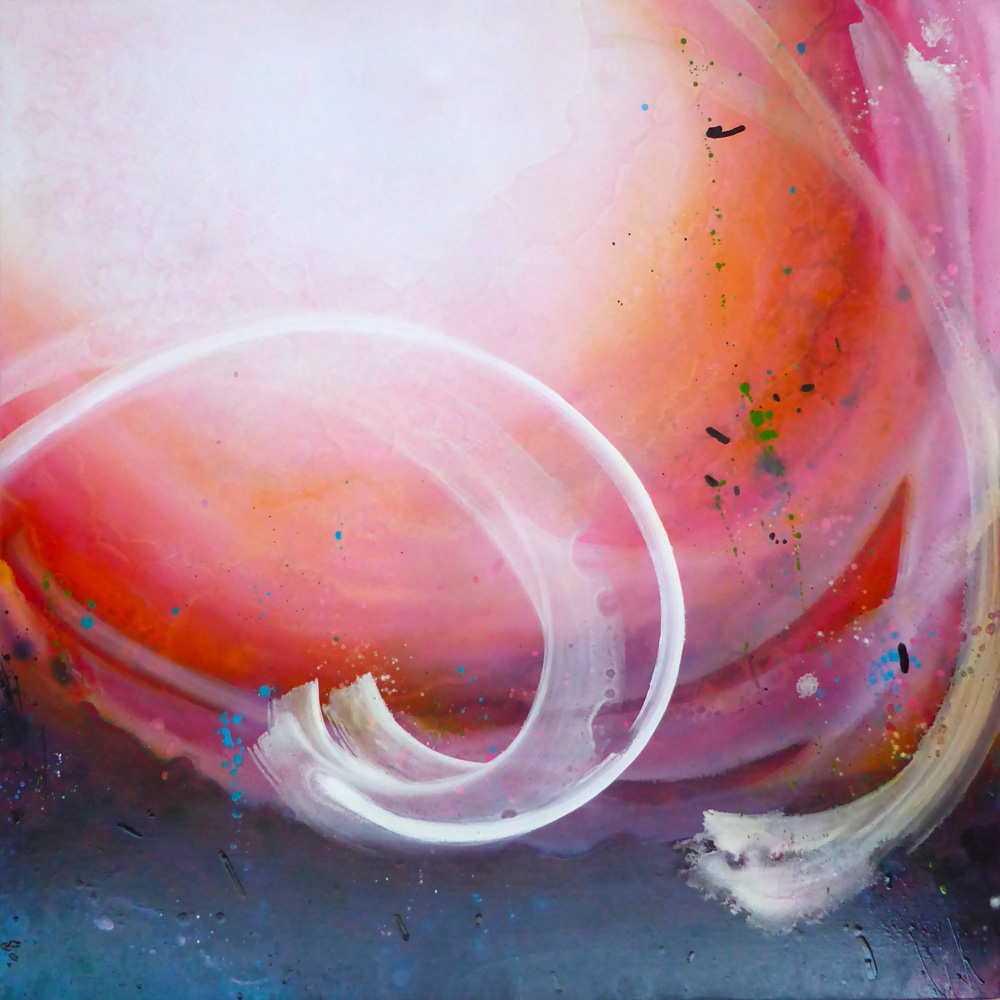 Tell me about how your time in Japan affected your work?
I have a black belt in Aikido. I made several trips to Japan to take Aikido training courses, which use gestures mimicking triangles, circles and squares. I am forever connected to Japan, and thus in my paintings I make circles everywhere, reproducing the gestures of Aikido.
After that, I went to Senegal where I followed my partner at the time: the people who lived there played with color in a fairly different way. I was caught up in the colors! At that time, color assumed another dimension in my painting.
A few years later I arrived on the French island of Saint-Martin. Here, I discovered a world of fantastic colors and light. Because of the climate, I had to adapt my glazing technique: A painting is done in several stages and several passes (or layers), and may take me up to several weeks to complete.
Each of my paintings can have very different meanings, and evolves according to my feelings. Just as the Japanese choose the name of a newborn baby according to what it really is, I do the same for my paintings. I give them a name according to their appearance when they are finished.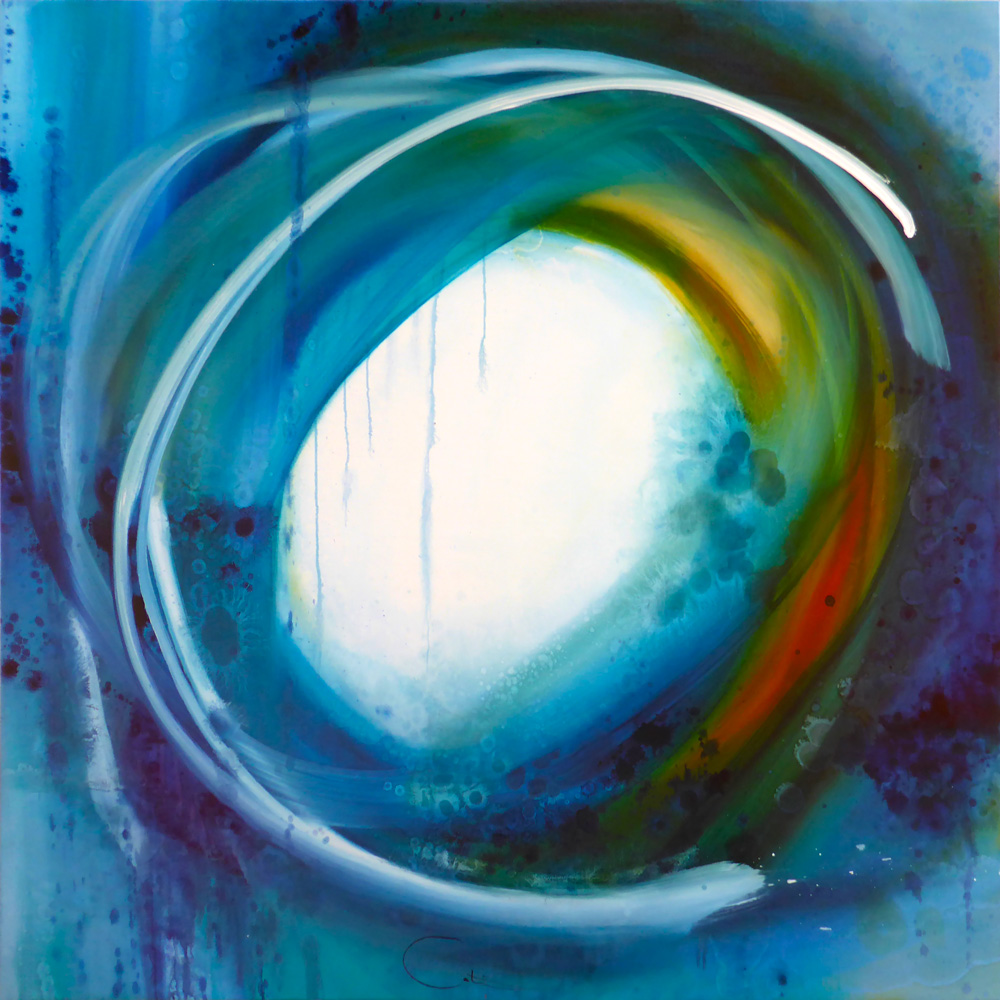 Tell me about your typical day?
I start the day with my plants and my cats. I go to the studio and put on quiet music that allows me to escape and isolate myself from other environmental noises.
The sun comes into the studio in the afternoon, so it becomes impossible to work there because of the heat. So I work on my computer in the afternoon. In the evenings, I often take Latin dance classes (which I love!) and spend time with lots of friends.


IF you could name1-2 things that make you "you," what would that be?
The fact that my mother has Perverse Narcissistic Personality Disorder made me develop an artistic sensitivity. My grandmother allowed me to be original.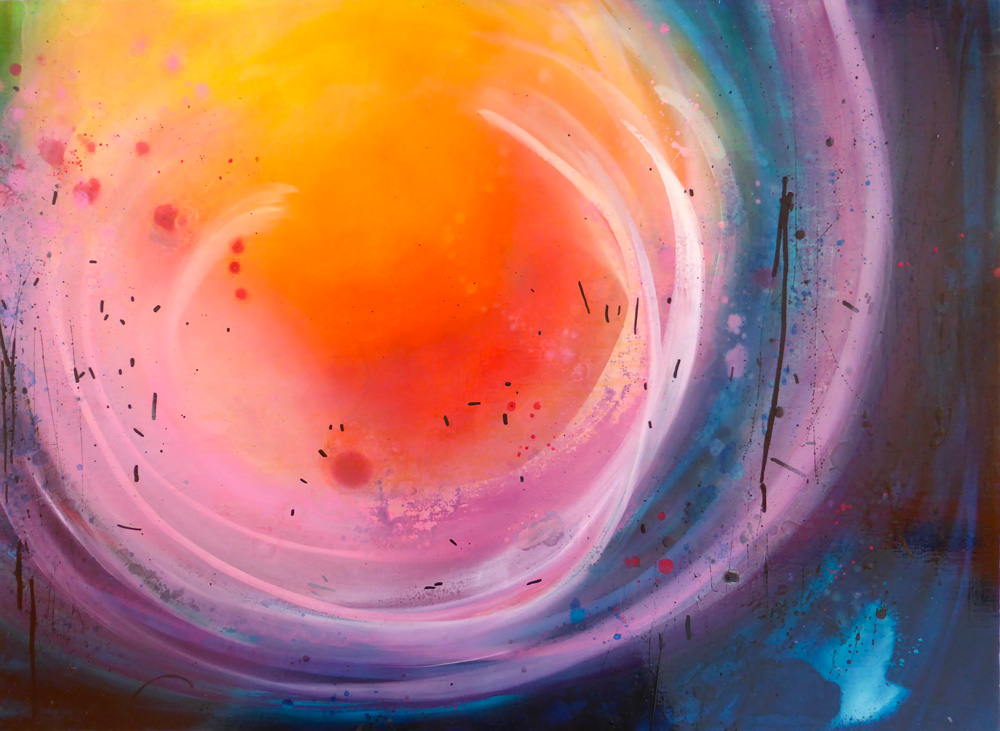 Any particular eccentricities that you'd like to share with us?
People want to protect me because I am too kind. Also, like many artists, I am not "aggressive" in the management and the sale of my works.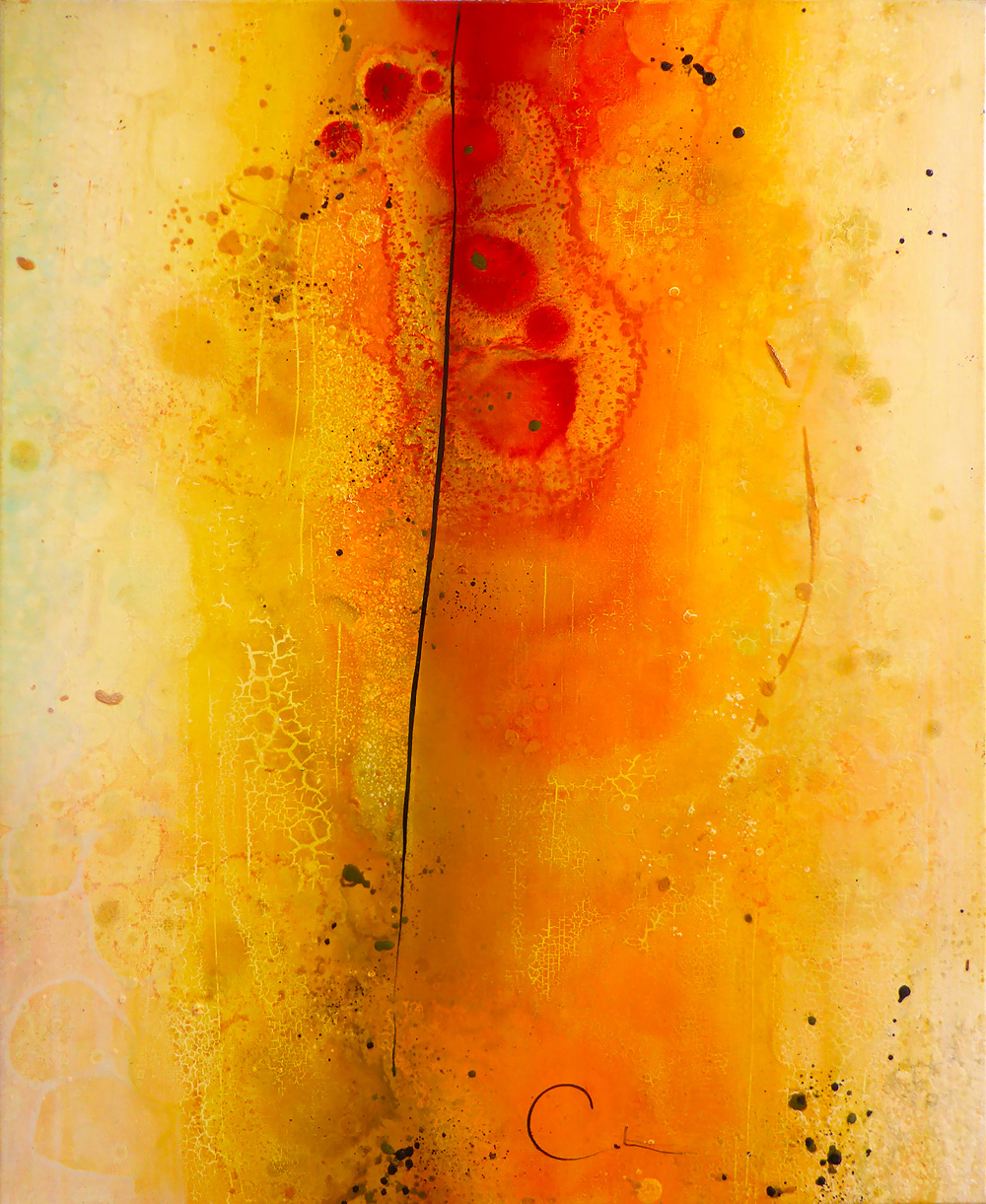 What have the critics and your audience made you realize about your work?
At the beginning, I showed my work to an art critic who told me that I was a colorist, that I knew how to make colors vibrate together. He made me realize that my sensitivity as an artist had always existed, that the powerful emotion was indeed there.
When people see my work, they open their hearts, they fall in love with my paintings – because they fall in love with themselves. They go towards themselves by immersing themselves in my paintings.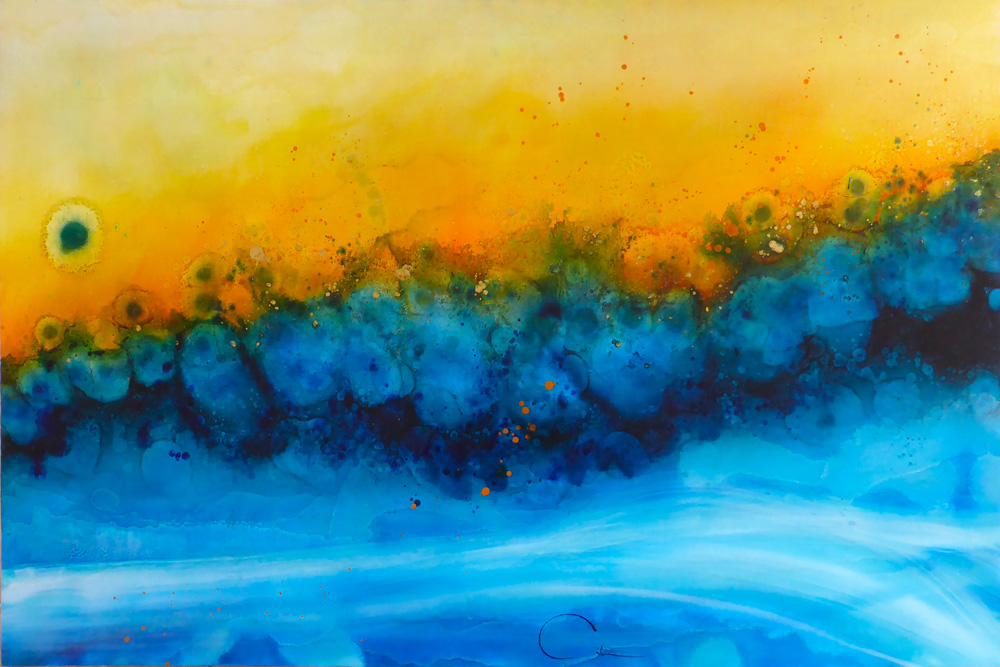 Can you tell me how each piece is inspired or developed?
When I start a painting, I don't think too much…I stay focused on my feelings. I try to allow myself to be free and let it happen…
I continually step back from the canvas to examine it from every angle, at several stages of its evolution, between each drying. I allow it to evolve in a direction according to my feelings at the given moment.
When I am creating a commissioned painting, I bring the person into my heart and try to visualize who they really are in their innermost being. My goal is to create a piece that perfectly fits them.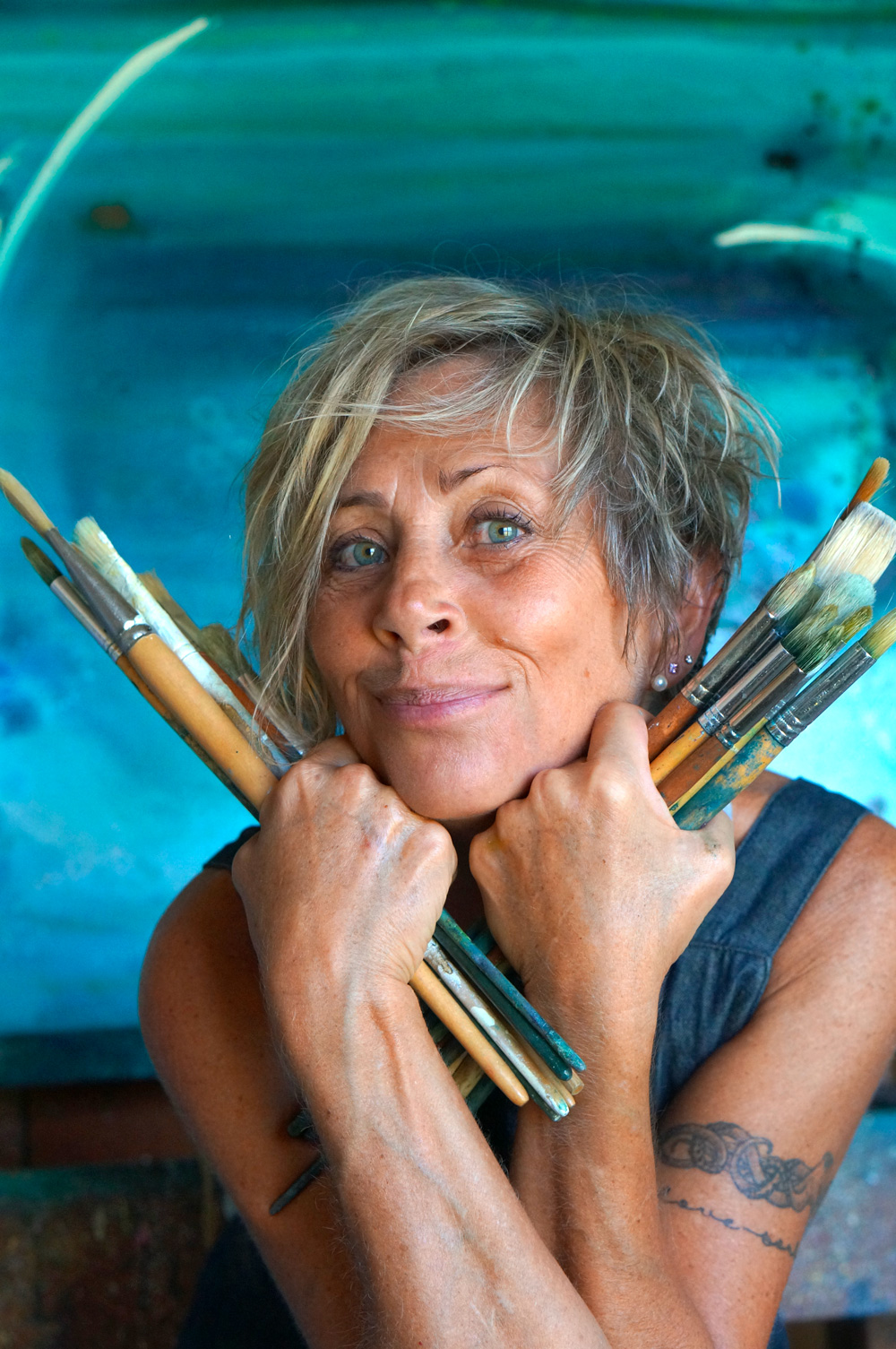 Do you have a goal as an artist?
I dream of having fun with huge and uncommon formats! However, for that I would need a workshop with the right space and surfaces. Someday!