Ocean Explorers

Ocean Explorers is a 5-star PADI Dive Shop owned by Jeferson Techera and Luciana de Lima. Both live and work for over 22 years on St Maarten.
The "Oldest Dive Shop in St Maarten" was established on 1977. With over 46 years of combined experience in the diving field and most importantly, all efforts have been put into maintaining a high standard of operation in the shop.
All dive trips and lessons are personally supervised and safety is the number one priority.
Located on the quiet beach of Kim Sha, in Simpson Bay, has easy parking and is stocked with first class quality equipment, for rent or for sale at reasonable prices.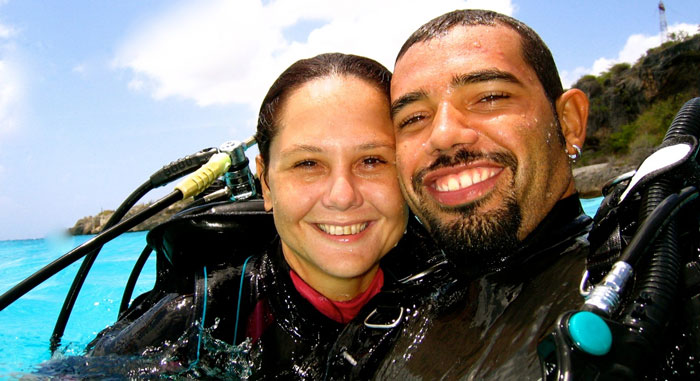 Meet the team at Ocean Explorers
Jeferson is originally from Brazil, has been living and diving in the waters of St Maarten / St Martin for over 20 years. Many say that it's easier to find him under water than on land! Started diving when was a kid and became the youngest dive instructor ever certified in Brazil, has thousands of certified students in all levels, from beginners up to Dive Masters. Above all, Jef's enthusiasm is still strong in taking time under water to visit each creature he finds hiding on the reefs and wrecks. His passion is diving and everything related to it; studying the fish behavior, taking photos/filming underwater and being up to date on all things shark-related. He is always happy to help with any photography questions or problems.

Jef's credentials
A PADI MSDT Instructor with many distinct specialties; TDI Technical Instructor for Rebreather, Decompression Dives, and Advanced Nitrox to name a few. First Aid Instructor, Boat Captain, and STCW 1995 Certified to guaranty everyone's safety on our boats, Scuba gear technician certified for all main brands. His biggest passion over this last 20 years is SHARK DIVING and loves to share his care and understanding about sharks with anyone who asks.

Luciana is a PADI Dive Instructor for over 23 years and living & diving in St Maarten waters for over 20 years, Luciana specializes in customer care. She divides her time between the dive and making sure the dive shop runs well. For instance, she's our "behind the desk" help and is most likely the person who will be answering your calls and e-mails. Always keen to get in the water and interact with students and divers whenever have a chance! Underwater Photography and trying to help with protecting the natural beauty here on St. Maarten are her passions. She has quite a few scuba photos published in several magazines, newspapers and even children books! Her keen passion for the diving world makes her an excellent addition to our team at Ocean Explorers.

Above all; As our island paradise grows the shop still remains small and very personal.