Oualichi Beach Bar – Restaurant
Immerse yourself in the unparalleled ambiance of Oualichi, a charming beach bar & restaurant nestled along the picturesque Boardwalk in Philipsburg, St Maarten. As you step into our inviting establishment, prepare yourself for an extraordinary experience where every moment is crafted to offer sheer delight and relaxation.
Indulge in the artistry of mixology with our exquisite array of cocktails and locally inspired drinks, meticulously crafted by our talented bartenders. Unwind and savor the flavors of our international cuisine, expertly curated and prepared by our culinary maestro, Chef Gilbert. From tantalizing appetizers to sumptuous main courses, every dish is a testament to culinary excellence, ensuring a feast for both the palate and the soul.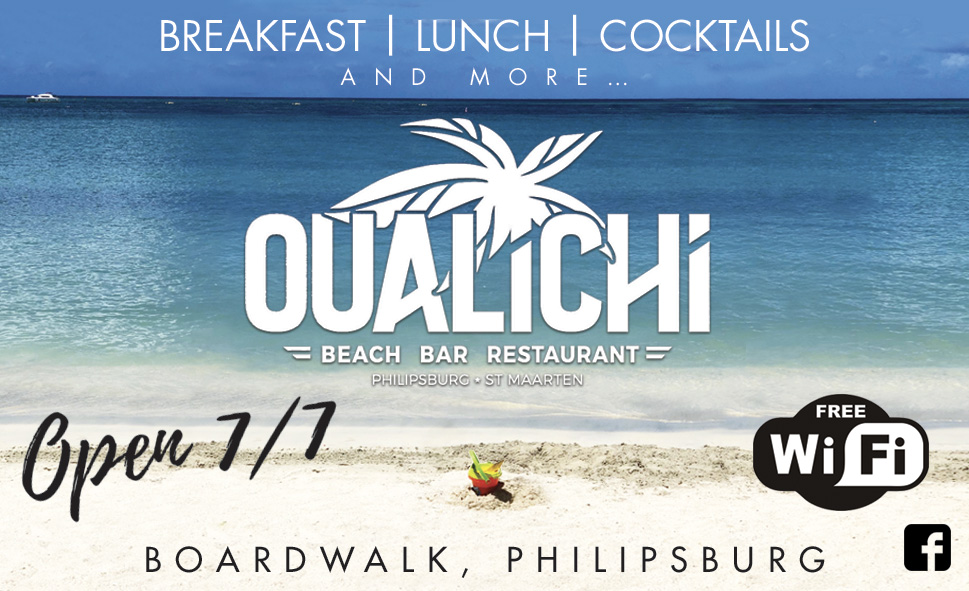 But that's not all – the pièce de résistance of your visit lies in the breathtaking vista of the azure Caribbean ocean that greets you, casting a spellbinding allure that leaves you utterly captivated. The panoramic view from our location is nothing short of mesmerizing, inviting you to bask in the beauty of nature's grandeur while you sip on your chosen libation and relish the culinary delights.
Take a look
Should you desire a moment of ultimate relaxation, our devoted Beachboy is at your service, ready to guide you to the perfect spot on the beach where you can recline and unwind amidst the serene surroundings. And to enhance your beachside reverie, a refreshing ice-cold bucket brimming with an assortment of international beers awaits your indulgence, ensuring that your beach nap is complemented by the finest libations.
The Oualichi Team eagerly awaits your arrival, ready to extend our warm hospitality and ensure that your visit surpasses all expectations. Join us for an unforgettable experience where delectable flavors, stunning vistas, and unparalleled relaxation converge, promising cherished memories that linger long after you've departed our shores. We can't wait to welcome you into our coastal paradise!